Whether it is as a thank-you, a holiday celebration, or a "remember me" token, a gift goes a long way. And when you imprint it with your corporate logo, it goes even further. Think of the affinity you have toward someone who gives you a gift. Now, imagine one of your customers, employees, vendors or distributors feeling that way about your COMPANY.
When properly selected and distributed, gifts should serve as an investment and not an expense. The return on investment may be in the form of increased loyalty, improved performance (in the case of an employee), additional business and enhanced good will.




Thank You for the order
Happy Holidays
Congratulations

Happy Birthday or anniversary

We appreciate your business
Get Well
Sorry
Thanks for the referral
A new baby
A corporate move
Welcome to a new employee
A promotion
Completion of a project
Acknowledgement of a job well done
Explore the different types of gift options available. Apparel always carries a high perceived value, adds a personal touch, has a long life, and with your corporate logo, it is a constant reminder of your company to the recipient and others. Desk and business accessories tend to have high usage rates, high visibility and a long life. Such items include portfolios, clocks, penholders, coaster sets and business card holders. Food gifts are extremely versatile and can be given to a wide selection of people. There are many different themes for food gifts, which can be packaged in baskets, containers, crystal or wooden boxes. Consider adding other items with your corporate logo that will remain when the food is gone, such as a set of coffee mugs with coffee related food items, and a cutting board with crackers or with a ham.

Presentation is everything when it comes to gift giving. Why not make your gift look like one? Check out our informational section on Packaging.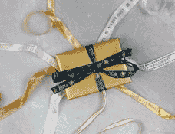 Always check the customs and etiquette of foreign countries to ensure that you abide by the appropriate gift-giving procedures. For instance, in Japan, knives or any item with a sharp blade like a letter opener are best avoided. They signify a severing of relationships - something we're sure you don't want to do. In India, where the cow is considered sacred, any gifts made of leather are unacceptable.
<< Back to Idea Center Home Page
Call us at (800) 699-0977 or Contact Us today to discover how we can create a powerful promotional program for you.