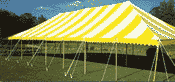 Take advantage of the multiple opportunities available to promote your company. Did you build a new office building or are you dedicating a wing of your building? Are you trying to raise funds or generate awareness? Would you like to thank your customers? Is building teamwork among your employees a major objective? We can help generate excitement around your event.

Grand Openings
Dedication Ceremonies
Fund Raisers
Holiday Celebrations
Teambuilding Events
Hospitality Tents at Sporting Events
Customer Appreciation Days
After analyzing the objective of your event, plan the attendee listing. If appropriate, choose a theme to make the affair a memorable experience. Make an impact with your invitations by sending something "different" than the standard letter invitation, such as a promotional product to reiterate the reason for the event. Make sure you provide any easy way for recipients to RSVP - you'll need this number to determine space needs, catering and giveaways. Determine the types of signs and banners you will need, and think about providing a memento of the event for attendees to take home.
Having planned multiple events for corporations, we can guide you with the DOs and DON'Ts when it comes to planning corporate gatherings and events. Whatever you do, DON'T hesitate to call us.
<< Back to Idea Center Home Page
Call us at (800) 699-0977 or Contact Us today to discover how we can create a powerful promotional program for you.